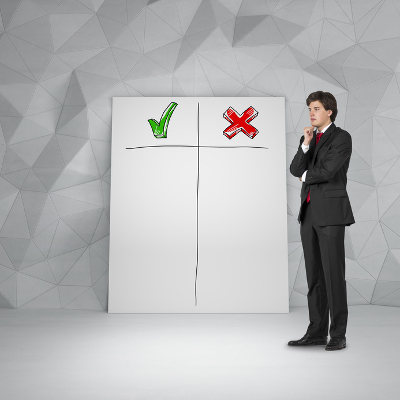 Allowing a workforce to operate remotely can provide a business with considerable benefits. However, there is also the risk of falling victim to a few shortcomings that can snag a business and ultimately hurt it. In order to make optimal use of a remote work strategy, there needs to be a conscious effort to minimize these shortcomings. For this week's tip, we'll discuss how to do so.
The Benefits of Remote Work
Consider how much of your budget is spent paying your rent or your business mortgage, as well as the costs that come with it, including heat, power, and the rest. Chances are, these are some of your major costs, and they are costs that you pay in order to make money. However, if your employees are given the ability to work remotely, you could very likely downsize your office space and cut down on these expenses, freeing up funds to invest in other business-growing initiatives.
In addition to the cost savings, there is a flexibility that remote work offers. This flexibility provides workers with benefits that an in-house approach would have great difficulty in pulling off, and allows employers access to a wider talent pool when they have a position to fill.
For example, consider parents of young children. While they clearly need the finances to raise their kids, it is also important that these parents are able to be there for them as well. The flexible schedule that remote work offers can allow these parents to shape their work schedule to match their kids', enabling them to get them on the bus and be there for their soccer games all the while earning the salary that permits them to support their lifestyle. This freedom and flexibility also lends itself to higher retention rates, as there isn't the opportunity for an employee to be micromanaged and pushed out of the company.
The Downsides
Unfortunately, this freedom and flexibility can also be cause for some concern, as a remote worker might give in to the temptation to phone it in as they are working. Additionally, just as there are distractions in any office, there are distracting factors in play for a remote worker to deal with. You wouldn't want to be paying someone for time spent watching a soap opera, doing household chores, or potty-training the new family dog.
There is also a tendency for remote employees to experience reduced interaction and engagement with their coworkers, which can lead to difficulties communicating and reduced morale.
Fixing the Downsides
In order to optimize your remote work implementation, the first step is to focus on hiring workers who possess strong communication skills that you can leverage and nurture as a part of their on-the-job training. Checking in with your remote workers allows you to be sure that they are working productively, and helps them to feel that they are still a part of the larger team. Consider calling them into the office, if possible, for an occasional meeting to help develop that sense of camaraderie. You should also be sure that you are communicating that you trust your remote team members to do the job they are assigned to do, avoiding any impulse you may have to micromanage them.
Finally, in order to effectively communicate and collaborate with your remote workers, you need to have the technology that allows you to do so. The right technology can shrink the distance between your in-house and remote workers, creating a more productive and progressive set of work environments.
COMPANYNAME can help you implement this kind of remote working situation. Call us at PHONENUMBER for more information.