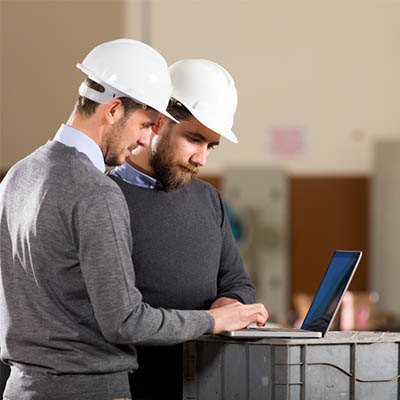 The small business owner has to be much more diligent in the way they spend their company's resources. Technology, and the automation that it often brings, can work to make your business more agile and efficient. The problem with implementing this technology is that it typically comes with large capital outlays and committing to spending big chunks of money can be impossible. We'll take a look at how other small businesses have been investing in technology to help you determine what you should be prioritizing.
Five Important Technologies
In a study conducted by Capterra, 699 small business owners were asked what types of technologies they considered necessary for their business. The responding parties thought that the five most important technologies they currently use are:
Data & Information Security
Dynamic Website
Cloud Computing
Customer Relationship Management
Human Resources Software
We'll go through each of these five to tell you how your organization can improve by deploying them.
Data & Information Security
With the use of technology, there comes some inherent risk. For every person using this information for the benefit of others, there is one that is looking to take that information and use it for personal (mostly financial) gain. That's why investing in comprehensive network security measures is viewed as uncompromisingly necessary.
The data security market is pretty large, and as a result, there are a lot of solutions you can implement to confront your network security problems. Before we go into them, however, we'd be remiss to not mention that much of your ability to protect your data lies not with the technology you use, but with your people. Understanding solid security practices is essential for any organization that is looking to avoid security issues.
Some of the best data security out there lies in some pretty well-known technology, such as antivirus and firewalls. Beyond that, the best way to protect your data is to invest in a comprehensive data backup and recovery platform. By taking frequent backups of your data you can protect it from any manner of threats. With a comprehensive backup plan in place you are assured that whatever trouble you have with your network, your data's security is on point.
Dynamic Website
Nowadays, almost every business has some sort of web presence. If they don't have a dedicated website, they use social media to interact with the large number potential customers that utilize the Internet. For the growing business, it is important to invest some time and money in creating a web presence that helps you stand out. The best way to do this is by creating a website that offers customers a sample of your authority.
Having a well-designed, concisely worded, and easy to navigate website can go a long way toward engaging customers. This is especially true if you can find a way to leverage e-commerce capabilities. Giving customers a one-stop shop is a surefire way to get repeat business, and therefore is a solid place to invest company capital.
Cloud Computing
Nowadays, not only do businesses depend on cloud computing, but people do. It just makes sense as it provides several benefits that are advantageous for the small business. The cloud's initial value comes from the access to critical applications that it provides. It may be hard for the small business to afford critical software if they were to buy and license them outright, but with software as a service (SaaS), offerings tend to be billed per license per month, eliminating the large capital costs and altering the way you pay for your IT. With cloud solutions being billed as small operational costs, it relieves the burden that spending big money on software can impose on a small business.
Additionally, cloud computing provides access to all types of computing environments. From development platforms to application deployment, from communications to storage, the cloud provides a lot of options for a business that needs the kind of scalability and security from their computing environments. Cloud platforms come in private (which an organization hosts) and public (which is hosted elsewhere). Many businesses today choose to roll out a hybrid of these two, utilizing public cloud resources for certain types of computing (such as applications and communications), while creating a private cloud platform that hosts resources that need more security and access control such as storage.
Customer Relationship Management
A comprehensive CRM can do so much for a business that it's hard to summarize its benefits in this small space. A CRM, or customer relationship management program, is a piece of software that works to integrate several aspects of your business, while offering integrated automation to provide operational efficiency and set the groundwork for continued growth. How does it do this? By eliminating gaps in customer conversion.
There are many CRMs. Businesses can host them onsite or in the cloud. Some CRMs are created for specific vertical markets, some work in any market, but what compels organizations that have limited resources to put their eggs in the CRM basket is that is it works. In order to increase revenue, a customer base has to be formed. The CRM provides way to engage more customers, nurture them through the sales process, and support their needs, turning a new customer into a repeat customer.
When a small business runs their operations through a CRM, not only do they benefit from the time-saving automation the software provides, they also can view and generate better ideas and make more educated decisions. Ultimately, though, a CRM's purpose is to organize the sales workflow process, and for that purpose, it excels. Not only does it provide options to track viable leads, but it also keeps every customer top of mind to help provide the best support possible.
Human Resources Software
When you start a business the rudest awakening you have is when you're tasked with managing the human resources end of the business. Many small businesses today mitigate their growing pains and other personnel issues through the use of human resources management software. Hosted inhouse or in the cloud, HR software basically works to help all aspects of your business run more effectively.
HR software can automate a lot of the tedious, and often dubious, aspects of dealing with an organization's human resources. It can handle the deployment of benefits, and, most notably, payroll, a pain for anyone tasked with doing it. HR software can also keep a business from making mistakes that could put the whole endeavor in jeopardy, and keep it in compliance with local, state, and federal employment laws.
HR software can also integrate with other management and operations software to give administrators a view on how certain parts of the business are being handled by certain employees. This provides a construct that is useful in the onboarding/offboarding processes as well as options that will help come up with better business strategies. Technology is a huge part of the modern business, and for small businesses it can work to level a playing field. For more information about technology, there's no better people to ask than COMPANYNAME's IT professionals. Call us today at PHONENUMBER to discuss your business' technology strategy.