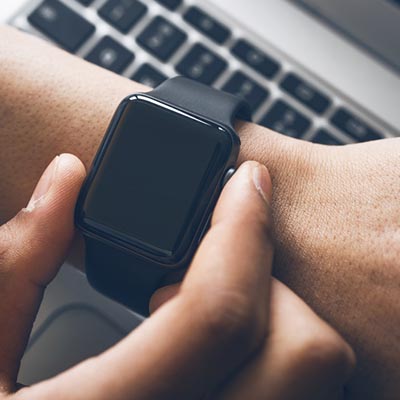 The smartwatch has quite a few benefits, but anything that one might bring to the table is offset drastically by its position as a threat magnet. Vulnerabilities in smart watches and other wearable technology makes using these devices somewhat risky behavior. Today, we will look at some of the features of the modern smartwatch, how hackers are utilizing them to be disruptive, and what you need to do to protect yourself from the risk posed by hackers.
The Smartwatch
There has been an actual smartwatch market now for almost a decade, but the first smartwatch was actually developed in the late '90s. Today, the smartwatch is most frequently used as a peripheral to the smartphone. They come in all shapes and sizes, and for the most part, they tend to have some utility to the user. Some of the main benefits to using a smartwatch include:
Convenience – It is extraordinarily convenient to check your watch and get all the information that you need to get, like notifications, calendar events, and more. Today's smartwatches even give you the ability to seek out information. Using a strong integration and its own processing power, today's smartwatches do many of the things that the smartphone can do, from a screen the size of a watch face.
Functionality – Speaking of that functionality, the newest smartwatches have all types of features. From being able to integrate with some of your favorite apps, to practical functions that make them so useful, smartwatch manufacturers continue to push the envelope to what is possible for wearable technology.
Discretion – What is probably the most advantageous variable of the smartwatch, it provides the user the ability to be discreet about mobile interaction. Where most people will have their phone in their face a lot of the time, the ability for users to push notifications to their wearable, provides constant access to social networks, messaging, and practical information such as weather; and, since they are designed as a timepiece, it provides that function as well.
Security Concerns
The major drawback of wearable technology is how it connects with a user's mobile device. Typically, the wearable connects via Bluetooth, it is just an extension of that devices functionality. One problem is that these devices also can connect to Wi-Fi networks. For businesses that want to run a tight ship, wearables present a strain on their BYOD policy. Since many of these devices don't come with onboard security, they are immediately viewed as a vulnerability.
For the modern hacker, who looks for any vulnerability they can attack, wearables present an opportunity. Since network security best practices suggest that limiting access points is a great way to attempt to eliminate vulnerabilities, wearables are a problem. If a hacker gained access through an application at the wearable level, it could conceivably compromise the connected device and any network that device is connected to.
While industry experts agree that while a lack of wearable security isn't a huge concern overall, it is something that should be addressed when rolling out an organization's BYOD policy. There are some other concerns that include:
The unwitting collection of any electronic Protected Health Information (ePHI) could put an organization in the crosshairs of healthcare mandates such as HIPAA. You'll want to limit access to employee fitness and wellness data if wearables are a concern for your organization.
A lack of education about the potential vulnerabilities' wearables present for not only a business' data, but the user's data. If you are going to allow wearables to access your networks, it's important to educate your staff on the type of data their wearable devices collect, what it is used for, and where it ends up when it's collected.
Since there are no real anti-malware solutions for IoT devices, the management of these devices need to be approached with care.
Wearables are useful devices that do have a future, but it is important to come up with a policy that protects the data your organization has on its network from potential threats. To learn more about how to roll out a comprehensive Bring Your Own Device policy, and protect your network against threats of all types, call COMPANYNAME's IT professionals today at PHONENUMBER.