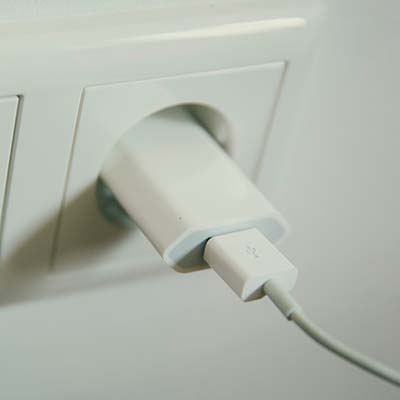 Wireless charging is a true conundrum. Sure, it's a brilliant idea. On the surface, there are no drawbacks. No more charging cords or adapters, unless you count the one that will always be plugged into the wall. Today we take a look at wireless charging, why it hasn't taken over yet, and future options that will let us really charge our devices wirelessly.
A Little Background
As long as there have been need for it, people have been trying to go wireless. In fact, Nikola Tesla, one of the great minds in world history, spent most of his life on this problem. Of course at that time, electricity as a utility wasn't a thing, and his plan was to create a device that would produce a magnetic field, theoretically allowing electrical currents to be transmitted through the ether. By developing the Tesla coil, he proved this to be possible. He was never able to deal with the fatal drawbacks that persisted, however. You know, open charges of electricity moving through the air has a tendency to frighten people, especially after a murderous elephant was fried using them to make a point.
As the technology moved on from Tesla, the Tesla coil was innovated upon, and eventually was incorporated in contemporary radar systems. As it became more powerful, the utility for such a technology wasn't available. For years the work of people at the U.S. Department of Energy, NASA, and many private sector organizations was largely wasted as the technology didn't seem to have a market.
The Smartphone
Despite the boom in consumer electronics in the last third of the 20th Century, not many devices took advantage of wireless charging technology, because not many of them were mobile at all (more on that later). Cellular phones, however, were mobile, and gave manufacturers a reason to revisit wireless charging technologies. At first cellular phones, and some commercial electronics (like razors) had docks. Then it happened…people realized that no matter what, there would be a wire necessary. Even in the most modern smartphones that have wireless charging, the dock is plugged into a power source.
Sure, the smartphone brought wireless charging to the attention of the masses, but since there is very little difference between connecting a wire at the base of device and situating the device on a charging pad just-so, it hasn't yet become a true wireless technology. Now there are pads, bowls, and all types of other wireless charging docks, but they still all need to have a source of energy attached. A few companies have started utilizing the natural world as their energy source. In fact for as little as $25 you can get a solar wireless charging bank that has a pretty-good-sized 5000mAh battery in it, but you need to connect it to the smartphone via, you guessed it, a wire. You can get a wireless charging dock that you can charge beforehand, and while that is closer than ever to true wireless experience, you still have to charge it with a wire.
Actually Wireless
The truth is that every charging platform is going to need a source of power, so wireless charging for mobile isn't going to be attained until people master the use of technologies that are:
a) Effective at charging mobile devices with wireless charging capability.
b) Not overly harmful to people.
Seems like a pretty easy list to meet, right? No one has brought a product to market yet. As we said earlier, wireless charging is a true conundrum. Today, there are numerous institutions trying to figure out the specifics that will allow us to charge our devices without restriction. Silicon Valley-based Energous, Ossia in Bellevue, Washington, and Santa Monica, California's uBeam all have begun to develop technologies that meet the criteria above. As they develop "uncoupled" power solutions, the future becomes now.
The idea behind the technology is that wireless power sources will supply the necessary juice to not only smartphones, but wearables, hearing aids, and a litany of sensors that are increasingly being placed inside products. The problem now becomes how to utilize this technology, and how to market it. In fact, market analysts actually expect pad-based technology (like QI chargers) demand to increase, even as this new tech ramps up development. This is a direct result of the negligible amount of devices that currently support wireless charging. There just isn't any platform that will meet the needs of consumers that include: creativity, affordability, and the ability to ubiquitously charge devices within range of the charger.
So currently, wireless charging is an oxymoron and will continue to be for the foreseeable future. Do you have a device that can be charged wirelessly? Do you find it useful? Leave your comments below and return to our blog regularly.