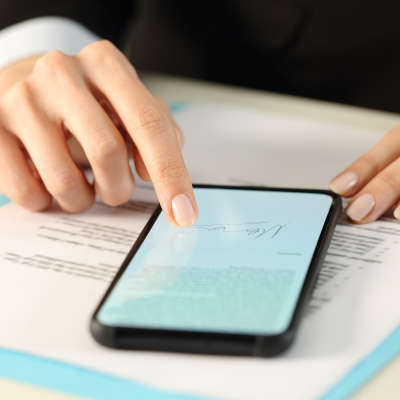 PDFs are a hugely useful file format, especially as a means of securing a signature. Just in case you're not sure how to do so effectively, let's go over how you can digitally sign your PDF files.
Signing a PDF in Windows
For this tip, we're going to work under the assumption that you are doing so using Adobe Reader for Windows, as it is one of the most common options available.
Getting started is as simple as opening the document that needs a signature in Adobe Reader and selecting the Sign option from the toolbar, or in the View menu dropdown. This will open the Fill & Sign panel, where you should click Place Signature. A new window will open, giving you four different options as to how to add your signature:
Type my signature
Use my webcam
Draw my signature
Use an image
Let's briefly go over each of these processes.
Type my signature
The Type my signature option is the simplest to use, as all you have to do is type your name into the provided box and a signature will be generated for you in the Review Your Signature box. You even have the option to change between four styles by using the Change Signature Style button below the generated sample.
Once the signature is to your liking, you can add it to your document by clicking Accept, placing and resizing it appropriately. At that point, you can do as you wish with it, sending it out via fax or email, sharing it for others to sign as well, or saving a copy to your workstation.
Use my webcam
To use your webcam as a means of signing a document, you will want to first select Place Signature and then Use a webcam in the drop-down that appears.
You will then be told to sign your name in black ink on white paper, which you will then use your webcam to scan in. To begin, press Start Webcam, and then take the physical signature you've created and align it to the blue line that Adobe Reader provides. A preview will appear, which you should Accept. You will then be prompted to place the scanned signature where it belongs on the document and to resize it appropriately.
Draw my signature
This option requires the right input equipment to work, but if you have a touchscreen display or a stylus, you can sign the document as you would any physical one.
After selecting Place Signature, choose Draw my signature from the provided drop down menu and do so in the provided space on screen. The Clear Signature option gives you a redo, if needed. Once you've created your signature, clicking Accept will insert it.
Use an image
Finally, you may have a copy of your signature already saved to your device, for your email or what have you. By selecting Use an image from the dropdown menu, you'll be given the ability to Browse… your files to find the appropriate one. You can then resize it appropriately, choose Accept, and save your file.
Hopefully, we've given you a few workable options to choose from when you next need to sign a PDF file. What other tips would you like us to share? Leave your thoughts and requests in the comments!
You can also always call COMPANYNAME for assistance as a part of a managed service agreement with us. Reach out to us to learn more about this means of IT management by calling PHONENUMBER.