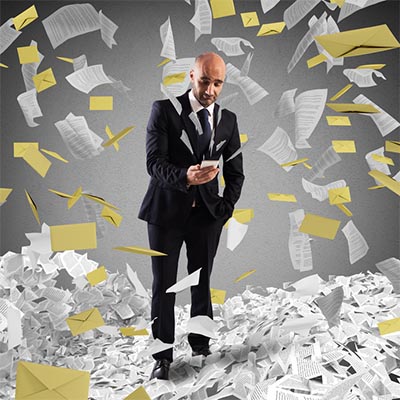 In today's connected world, we expect to be notified when something happens in one of our applications. However, I'm sure you've seen an app notify you about every little thing, or just to remind you that it exists. Even if you caught on early enough to stop enabling notifications for each and every app, there are bound to still be a few irksome and distracting ones to take care of. For this week's tip, we'll discuss how to turn them off again.
Why Notifications Are (Sometimes) a Problem
Objectively speaking, notifications are a purely useful thing. Software is programmed to alert the user to information as it becomes available… a real benefit in a society as connected as today's. In both personal and business dealings, notifications assist us in keeping our communications and collaborative work as close to real-time as possible. However, this is an idealistic view – the actual situation has deviated from this ideal considerably.
Originally, a user would only receive a notification to inform them of some kind of direct communication. These notifications were sensible, and fairly simple to manage.
However, as applications began to become more advanced, developers began to realize the potential that notifications held – especially as far as promoting the use of an already-owned application was concerned. This led these developers to effectively use notifications as advertisements, hoping to entice a user to use the application more often. These are the notifications that you likely find to be incredibly distracting in the workplace.
Below, you'll find the processes to manage (including deactivating) these notifications in the Android and iOS systems.
Android
Applications can be found everywhere in Android, even when the phone is locked in the more recent versions. Partially in response to the growing number of notifications the average user receives, users are now able to set the priority level of their notifications. Before the release of Android version 8.0 Oreo, this priority was set based on the notification's perceived usefulness.
While some Android phones have received the update to 9.0 Pie, most still leverage Oreo. We'll discuss each as we demonstrate how to deactivate notifications.
Android 8.0 Oreo
Oreo offers a few methods of blocking certain notifications. First, you can use the Notification Tray (the list of notifications that appears when you swipe down). While you can dismiss an application by fully swiping left, only swiping halfway allows you to access the notification's settings via a Gear icon. Using these settings, you can control the kind of notifications you receive from that application.
The same process, more or less, can also be accessed via Settings > Apps & Notifications > App notifications. From the list of applications, you can select each and adjust the notifications they send. You can also prevent notifications from displaying on the lock screen by accessing Settings > Apps & Notifications > Notifications > Lock screen and activating the option to Don't show notifications at all.
Android 9.0 Pie
Pie makes stopping notifications even easier, as a long-press on any will bring up the option to Stop notifications. The Notification Drawer also has a new option: Manage notifications.
You can also access Settings > Apps & notifications > Notifications > App notifications to review your notifications, with the ability to sort them by Most frequent or Most recent. This makes it simpler to find those application notifications that frequently create issues.
iOS
One nice feature of Apple products is the fact that the upgrade to the next version of their operating system is available to all as soon as it is released. Therefore, the majority of devices are likely running iOS 12.
iOS 12
Leveraging the Notification Center, Apple users can manage their notifications for their iPhone or iPad quite simply. In Settings, a user needs to access Notifications. From there, each app can have notifications enabled or disabled via a toggle switch.
Notifications are only useful if they aren't proving to be a distraction. For more tips to help your business make the most of its technology solutions, make sure you subscribe to our blog!