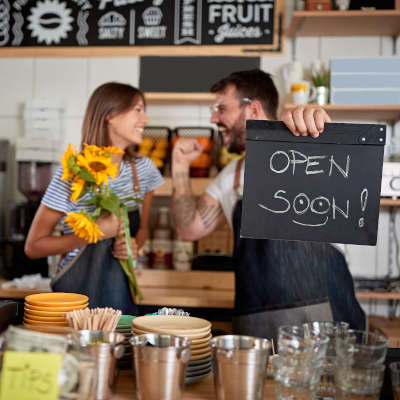 COVID-19 has most small businesses in the United States over a barrel. On the one hand, reopening too soon could help the virus resume its spread, waiting too long could put an organization's entire future in jeopardy. Fortunately, with the right technology at their disposal, businesses have a better option.
What COVID-19 Has Done to Businesses
The regulations that have been pushed in response to COVID-19 have caused severe complications for many businesses, especially when you look back on the projections from before the virus reached the United States.
In the first quarter, for instance, the Small Business Confidence Index that CNBC and SurveyMonkey released had very positive outlooks for this year. Weeks later, the score plunged 16 points. Similar drops were seen by the National Small Business Association, as their confidence benchmarks dropped to levels far below those seen during the relatively recent Great Recession.
Coming off a generally good year for businesses, 2020 caught many by surprise. Most business owners (72 percent) are now anticipating a considerable impact on operations for the foreseeable future, and quite a few will ultimately close their doors for good before the current disaster is over. Many have voiced other concerns in addition to the prospect of reopening too soon, such as how the market will react to the skewed competition that regional reopening will cause.
The long and the short of it is this: for businesses to survive, they are going to need to adapt to the new normal that our current conditions have dictated.
What Needs to Be Done
For these businesses to resume their operations, there are a few considerations that need to be taken into account, such as:
Communication
Between those that are required for their operations, as well as those needed to keep their employees up-to-speed with the developing situation, businesses will need tools that will allow them to continue their communications. With any face-to-face contact so strongly discouraged for the foreseeable future, other methods will need to take over, making these tools all the more important.
Workplace Safety
With the concerns of working in close quarters, many businesses will likely need to reconsider their operations. We anticipate that today's technology and the collaborative access that it gives will be used to the benefit of employee safety by enabling options like remote work and teleconferencing. For those operations that these tools aren't able to support, staggering your employees' shifts and scaling back processes may be required.
Future Focus
With all that is going on now, making a prediction with any certainty is arguably an impossible thing to do. The best option that today's businesses have is to prepare for a wide variety of outcomes by adopting the technology that suits them, like the tools that enable remote collaborative work. The cloud's ability to do so, along with its inherent scalability, will likely make it an unavoidable technology for businesses to adopt.
Business shifts are nothing new—we're just seeing a scenario that is requiring them to accelerate and escalate. COMPANYNAME is here to help you keep up. For assistance in adopting and supporting the technology your business will need going forward, give us a call at PHONENUMBER.