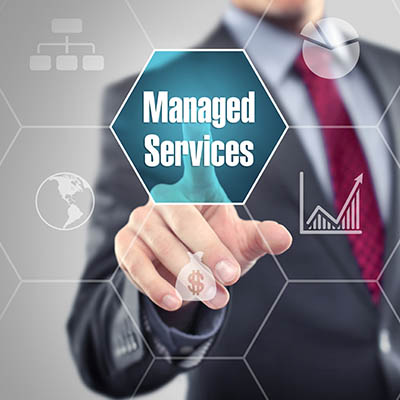 As a managed service provider, we realize that it may not be totally clear what it is that we do, exactly. To resolve this, we wanted to devote a blog to review what we provide to businesses like yours, and how our services can benefit you.
Managed Services, Explained
As time has passed, technology has improved, as has our collective ability to use it to our advantage. 
One clear example of this is the development of managed services, compared to the delivery of IT solutions in the past. Rather than a business only receiving support for an IT issue once they have reported the problem (and therefore suffered as a result of it), this business can have a managed service provider like us monitor their technology remotely, spotting these issues and resolving them proactively, before they manifest into a real problem.
As a result, managed services allow your daily operations to experience far fewer interruptions, preserving productivity and allowing more to be accomplished.
Managed services can help with more than just IT emergencies, too. Your general maintenance can also be attended to by your managed service provider, with your solutions updated, patches installed, and assorted other tasks all taken care of – allowing you to focus on other aspects of your business.
Why Managed Services Are Adopted So Frequently
On top of what we've already reviewed, there are other reasons that businesses have been moving away from the more traditional IT approach to managed service agreements.
Managed services are more efficient. One of the biggest issues of the traditional IT approach is the fact that, once an IT issue has been reported, the business reporting it has to wait around for the IT provider to arrive and attend to it. Think about how long that could take – that could be how long an employee is unable to work. Managed services, on the other hand, utilize remote monitoring and maintenance solutions that allow them to remote directly into your infrastructure to diagnose and potentially resolve the issue, getting your employee back in business much faster. Even if the issue does require an onsite visit, your managed service provider may be able to remotely identify the problem, saving time on diagnostics.
Managed services are less disruptive. On a related note, if an issue can be resolved without a stranger having to physically visit the business, there won't be a stranger in the workplace to create a potential distraction. As managed services are primarily performed remotely, there's a greatly decreased chance of a visitor drawing attention away from the task at hand.
Managed services are cost-effective. Traditional IT services can rack up a considerable bill, pretty rapidly. There's the impact of the issue itself, which may only be fixable through an expensive repair or replacement of your technology. There's the disruption to the office that we discussed immediately above that decreases the value your staff can generate, and the longer you wait for a fix, the more financial impact will be generated. Finally, traditional IT charges you on a per-case basis, so if many issues suddenly popped up (or one took multiple visits to properly resolve) you could easily spend far too much trying to fix your essential tools… with no guarantee that more issues wouldn't pop up again.
How to Implement Managed Services
To learn more about how managed services can help you, reach out to COMPANYNAME for more information. We can help AREASERVED businesses ensure that they get the most value possible from their business technology. Talk to someone today by calling PHONENUMBER.