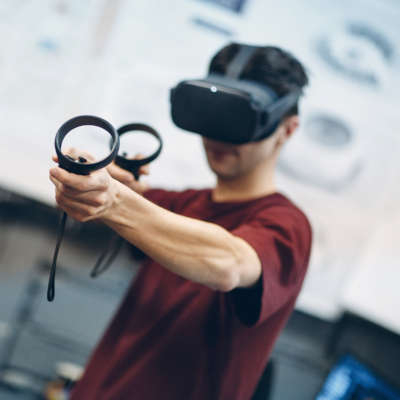 Virtual reality was once the "next big thing." As predictions for VR were made over the decades, it showed great promise to be a truly ground changing technology for businesses to adopt, especially for remote work. So… what happened? 
Let's consider what has happened in terms of VR in the workplace.
Empty Promises?
The idea of how virtual reality could be put into use at work has always been wrapped around the concept of improved collaboration. With virtual reality, you could have in-person meetings with someone on the opposite side of the globe. Collaboration would be flipped on its head, the convenience and efficacy of our communications improving immensely.
If compared to these lofty goals and projections, the current state of virtual reality is somewhat disappointing as the same predictions are only repeated with no discernible evidence of progress. Having said that, it is still appearing more and more often in certain applications,  primarily with corporations and other enterprises adopting these solutions.
For instance:
Training
WIth the use of VR, people across the country can be trained without an instructor actually being physically present to teach them.
Recruitment
In a similar way, VR can be used to streamline the interview process for recruitment firms, especially when there are large numbers of candidates to consider across a wide distance. VR allows conversations and instructions to be delivered in a much more personable manner than a web chat or forum could.
Design
When a product is being developed and tested, one of the most cost-intensive parts of the process is actually creating the prototype to evaluate. Using VR, designers can review their progress and make alterations, while the cloud allows different involved teams to remain immersed.
Therapeutic
Virtual reality has also shown its worth in many rehabilitative applications, from helping patients suffering from post-traumatic stress disorder to paraplegia, as well as introducing experiences to people that a condition (like autism) may preclude them from.
Communication
Whether it is used to promote internal collaboration or as a form of external outreach, VR has been shown to increase the engagement that people communicating with one another can have. As a result, benefits are had by all involved.
What Can You Use Now?
Until VR truly lives up to our expectations, you have plenty of other quality communication options for your business to take advantage of. From VoIP conferencing solutions to instant messaging to email, there are plenty of ways that you can improve your business using the best technology that we have today.
To find out more about how COMPANYNAME can help you boost your operations with the right technology, reach out to us at PHONENUMBER today.