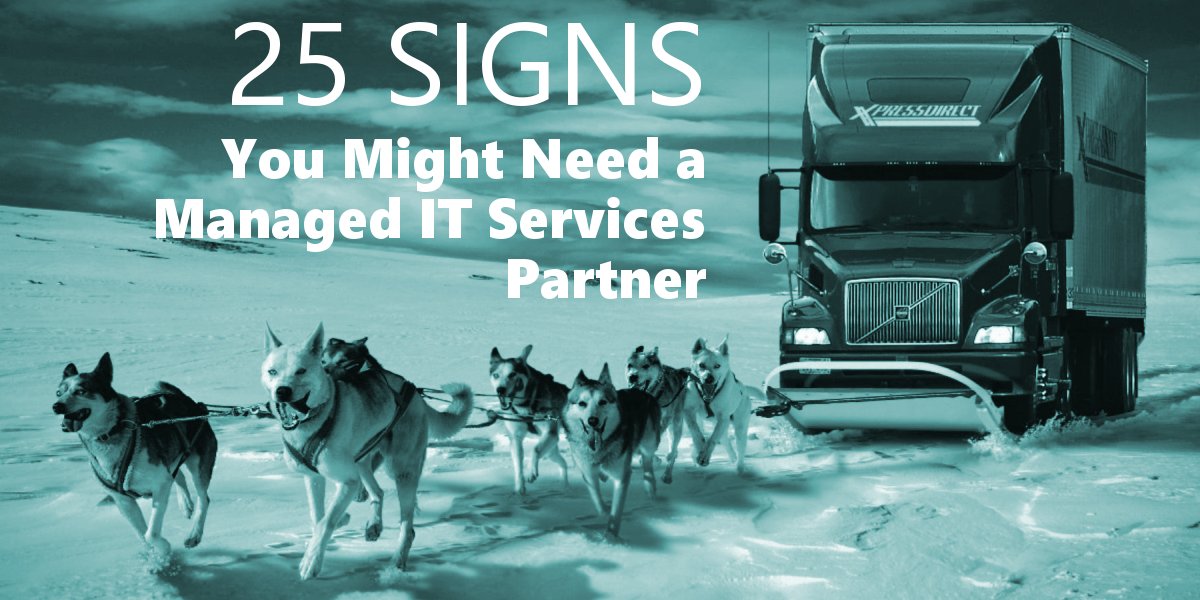 25 Signs You May Need a Managed IT Services Partner




…even if you already have an in-house IT department
IT management is not always on the "top-of-mind" for most executive teams. That's probably best for most companies—it could mean everything is running as smooth as a well-oiled machine and there are no issues or emergencies screaming for your attention.
Increasingly for many companies today, the reality is often different. In the last six months I've heard the words "chaotic", "lacking", "falling behind" and "embarrassingly outdated" to describe existing network infrastructures from new clients. These companies' data systems were clearly at risk.
Obviously, the best time to review your IT needs is long before you hear these words. But how do you know you're a good candidate for Managed IT Services?
We thought it would be helpful to give you some helpful clues here that you may need a managed IT services partner. Or maybe a better IT services partner. If you've ever heard any of these following comments in your organization, it's time for a review.
Here they are: our top 25 clues you may need a managed services partner
Listen for any of these or similar comments…
The exchange server went down last night and nobody noticed until I came in this morning.

The last time our server went down it took us two days to recover from backups.

My team is working overtime every month and still can't keep up with critical projects.

I've just lost my best network engineer.

Our budget hasn't increased in 5 years.

We're still trying to make the monitoring tools work that we bought last fall.

Half our server scripts were custom written by Tom who no longer works here.

Our IT company has given us five different support leads in the last two years.

About half of our engineers use open source tools, the other half strictly commercial tools.

Hardly a day goes by that I don't get an urgent call from my IT guy.

I have no idea how much we spent last year on our IT systems.

Our IT management costs have skyrocketed/ballooned/increased out of control in the last year.

My IT guy is on holidays and I can't get a hold of him.

Is there any way we can cut our IT costs down?

It always seems to take at least 4 hours every time our network goes down. Is that normal?

This is the second breach we've had in the last 6 months.

It takes a whole week to get new hires set up in our system.

We're opening up our first/next branch office.

About half our users are still on Windows Vista.

We're going to take a huge hit this year when we finally upgrade our office systems.

Our partner company is pressuring us to get set up "in the cloud".

We can't find and keep good IT techs.

Our vendor just dropped support for our biggest application.

What would it cost us in time and money if our server was hacked?

What's a disaster recovery test?
These are just a few real examples, but I think you get the idea. Hearing questions like these in your company should make alarms bells go off. Ideally you want to be proactively ahead of disaster, not responding to it.
Just in case you ARE hearing some troubling signs: Next week we're exploring some good reasons to consider Managed IT Services, and best practices for how to choose a Managed Services Partner.