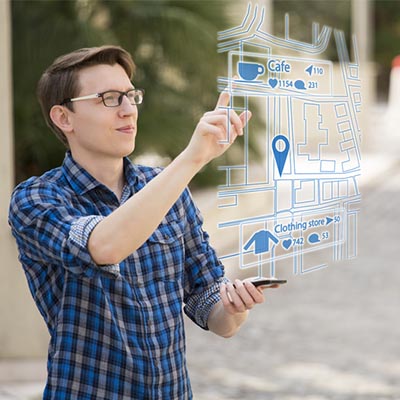 Every so often, we encounter an IT solution that could prove to be intensely beneficial to businesses when it can be fully adopted, but also has a few obstacles to its complete implementation. Here, we'll review how augmented reality can be used practically in the future, and the challenges that will need to be overcome in order to do so.
Understanding Augmented Reality
Augmented reality is being used around us today, a hybridization of our surroundings and computer-generated content, adding to the experience and utility of the world around the user. This is the driving force between many consumer-facing products, including applications like Pokemon Go, the fun filters on your smartphone that turn your selfies into caricatures, and smart glasses that give you a heads-up display for your notifications. However, augmented reality is also being developed to serve some more practical business purposes.
How It is Used
For instance, the smart glasses developer ODG has created an oxygen mask for pilots that utilizes AR to overcome one of the biggest weaknesses that these devices present: visibility. Due to the high likelihood that vision-obscuring smoke will be involved should the pilot ever require their mask, ODG has created SAVED (Smoke Assured Vision Enhanced Display). This is simply an oxygen mask that uses augmented reality to display the pilot's controls and outside view, much like typical smart glasses display information. This is just one example – factories could use AR to more effectively interact with Internet of Things data, manufacturers could design large-scale items without wasting resources by creating a virtual prototype, and doctors could use AR-powered devices to scan for a patient's veins before inserting a needle. Walmart, the U.S. Army, and General Electric Healthcare have all adopted AR for training purposes.
Of course, augmented reality could (and likely soon will) have what is more than likely going to be seen as a needed presence in office spaces as well. Virtual whiteboards and more immersive video conferencing are going to be the reality relatively soon.
A Shift
This brings a crucial transfer into focus: the shift from a solo AR experience to a shared one. By taking what would – at one time – need to be a meeting set in the physical space and instead holding it in cyberspace, increased collaboration is made more possible. The brand Spatial is developing a means for users to collaborate in just this way, and while there are still a few hiccups to iron out, it shows considerable promise for the near future.
Of course, there is always the use of AR to improve an individual's working process and mobility. Arguably, if given a laptop and the AR goggles, a worker could turn the emptiest of rooms into a productivity powerhouse and back again when finished.
AR clearly has a great variety of potential uses in the future. Which ones are you most excited about? Share your thoughts in the comments, and make sure to subscribe.