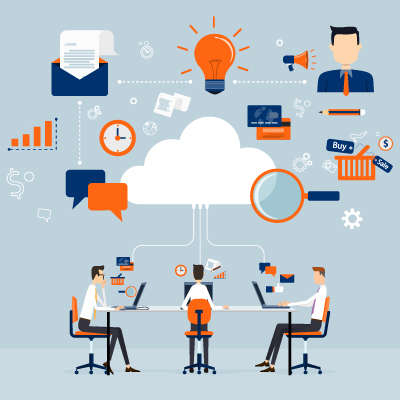 Most businesses today use cloud computing in one way or another. As people have been working from home, the value of cloud-based platforms has been noticed by new organizations of all types. With some businesses having seen significant cost reduction with their workforce dispersed, investing in cloud computing is being suggested by industry professionals to enhance access for remote workers. Today, we'll take a look at the cloud migration process and how moving some platforms to the cloud is the logical next step for some businesses. 
Why the Cloud?
We are in uncertain times. Businesses are seriously going to have to consider chopping their budget down significantly and pivot to more non-traditional methods to get through the COVID-19 pandemic and the near-certain recession that is going to follow. With this uncertainty looming, it may not be prudent to go ahead spending huge swaths of capital on new hardware. Cloud computing can provide you with whatever computing platform you may need, without the huge costs of purchasing new hardware. That cost savings is represented up front, and the hardware it is hosted on is managed by the provider, saving you time and money on that front, as well.
Ultimately, the cloud works best for situations where people aren't working from a central location. As access to cloud-hosted computing is available from nearly any device that has an Internet connection, your business gets an available, managed, and secure solution priced per GB or per user.
Priorities of a Cloud Migration
One problem decision makers have with local-to-cloud migration is that it is an admittedly slow process. After all, there are a number of considerations that go into the development stages, and if any of them are missed, or calculated wrong, it can delay progress significantly. Planning is extremely important and COMPANYNAME technicians have experience with cloud migrations, making our staff a great resource for this entire process.
Our advice is to begin with your most important systems and work through your network. You may want to keep some of your workloads local. You may also be able to virtualize your internal servers and utilize them more efficiently. Regardless of how you choose to forge ahead, you will want professional technicians overseeing this process. Any mistake and your data and applications could be corrupted and cause significant downtime.
If you would like help leveraging cloud-based utility computing to be able to get more out of your remote workforce, call us today at PHONENUMBER.