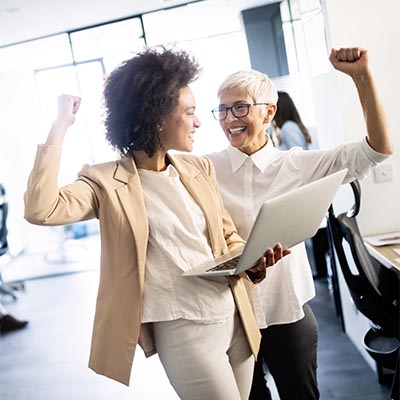 When you consider your business' strengths, you might feel the need to focus on quantifiable aspects that can be defined with numbers. There are some competitive advantages to this, but it's especially important to keep in mind that perhaps the most important quantifiable strength you have is your ability to sustain a positive company culture.
In many cases, your company's culture defines your company. When someone comes into contact with your business, they'll typically know immediate whether it's good or bad. Therefore, since that influence will ultimately affect the bottom line, you should consider investing in creating an engaging and inclusive company culture.
Draw in Talent
Your clients will typically appreciate working with a business that values its employees and nurtures their talents rather than one that is notorious for employee turnover, but ultimately, if a business is effective at delivering products and services of value, it doesn't matter much to outside businesses. Even so, it makes a lot of sense to invest in your employees and provide them with enough direction to effectively complete their duties. By fostering a more positive culture within your workplace, however, it will attract a wide pool of talent, giving your business access to the most talented candidates.
Retain Talent and Reduce Turnover
You can attract as much talent as you want, but it means nothing if you can't retain it. Therefore, you should strive to maintain a gold standard for employee satisfaction. After all, a sudden loss of an employee for a variety of reasons can lead to dropped processes, missed opportunities, and costs associated with the hiring process. Remember that onboarding a new employee will always cost more than retaining a current one.
If your employees are happy with your organization and not motivated to leave, then you don't need to suffer from these impacts. A positive company culture can be incredibly effective in this regard. Research conducted by Gallup found that only 37 percent of employees engaged in their work were actively seeking new employment opportunities, compared to 73 percent of those who are disengaged with their work.
Similarly, Columbia University found that organizations with a strong company culture experienced turnover rates as low as 13.9 percent. Compared to the 48.4 percent turnover rates of businesses with poor company culture, it's not hard to see the benefits this.
Boost Productivity
The right company culture can make your employees happy, and, what do you know, happy employees are more likely to be productive, which will ultimately result in happier clients and increased motivation to do their jobs well. The same Gallup research found that engaged employees saw productivity boosts of up to 21 percent, with another study by IBM-owned Kenexa finding that organizations with an engaged workforce brought in twice the income that an organization without these kinds of engagement levels.
Reduce Employee Burnout
Employees can suffer from burnout for several reasons, but a negative company culture can be a root cause. While it might be tempting to push the blame on the employee for this, your business is the one that has to suffer the consequences. Employee burnout is a contributing factor to a 49 percent increase in workplace accidents, as well as a 60 percent increase in errors. Overall, stressed out or overworked employees are a liability to your business, so take some time to decrease this stress so they can be better assets for your company's future.
Improved Attendance
Your employees aren't going to be very good ones if they never make it to the office, and according to a Harvard Business Review study, an increase of about 37 percent was reported among disengaged employees. This is naturally a serious issue, as employees that aren't getting work done due to not being in the office can contribute to your organization's suffering, and even morale could take a hit. A more positive company culture can encourage users to make it to work, leading to more productivity as a whole.
It's clear that company culture can play a significant part in the success (or failure) of your organization, so don't take any chances with it. COMPANYNAME can equip your business with several technology solutions that make life easier and more efficient for your employees. To learn more, reach out to us at PHONENUMBER.