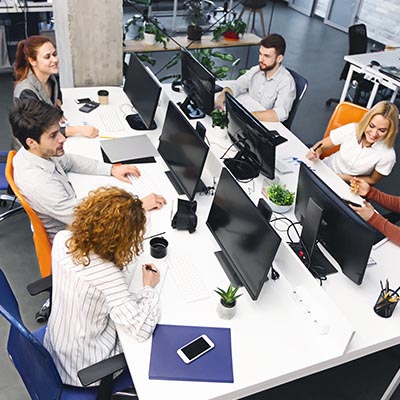 "Business as usual." This is something that people say when their time at work matches their expectations. If your staff constantly has problems with the technology you've provided them, the saying may be in reference to your constant IT troubles, which would be problematic on several different fronts. If your company's "business as usual" is dealing with downtime, runaway IT repair costs, and inefficient and variable productivity, you might want to consider managed IT services.
What are Managed IT Services?
Managed IT services are a departure from your typical computer repair strategy. Geared for the small business, managed IT provides constant IT support and services (regardless if you have onsite IT staff or not) that's strategy is keeping your organization's computers running effectively. Using a cutting-edge remote monitoring and management platform, trained IT technicians use automation software to continuously monitor a company's network and infrastructure, keeping them running properly.
With these continuously available IT tools, your staff can be much more productive, effectively paying for the service with the money saved from operational downtime. In order to completely understand what we refer to, you first have to completely understand downtime. Downtime is any point where your IT is either unusable or ineffective. Take the ISP that you get your Internet from. They likely advertise 99.9% uptime as one of their major selling points. Over a 31-day month, the .1% equates to a little less than eight minutes of Internet downtime for the month. Compare that with say 95%, which would be a little more than six hours of downtime for the month. If you are running a business and you are dealing with large chunks of downtime from failing or inefficiently-running IT infrastructure, managed IT can help you shave that number way, way down.
Better yet, the routinely failing hardware, which costs you an arm and a leg to replace, can now be effectively managed in a way where it will last longer, saving you the shock of huge capital outlays, and doing so for a simple, predictable, monthly payment. The typical managed services agreement doesn't end there, though. It features a myriad of other services that would typically cost your company a pretty penny.
These services include a system to protect your business from data loss, a service that helps manage the litany of vendors your organization has, and a service that provides the technological insight needed to take your business to another level altogether. Couple all of that with around-the-clock IT support though a dedicated help desk and the expertise that extends to onsite service if you need it, you have a service that will help keep your business functioning productively.
By committing to outsourcing your IT management, you not only improve the way that your technology functions, you will often improve your business as well. For more information about how outsourced IT brings superior value, call COMPANYNAME today at PHONENUMBER.