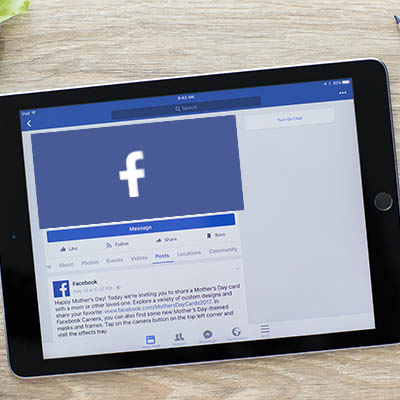 Most of us have a love-hate relationship with social media. A particularly controversial platform we discuss quite a bit on our blog is Facebook. Privacy is a monumental concern in the digital age, so today we thought we would go over settings you might not even realize are enabled on your Facebook profile. 
It is easy to forget how many people actually actively use Facebook. With over 2.4 billion active monthly users, you're not alone if you have ever questioned how private your account really is. The only way to fully control and prevent sensitive data from falling into the wrong hands, is simply limiting what you put online. However, data limiting goes way beyond what you post or input into your profile. Location sharing, machine learning, and other mobile device settings collect a massive amount of information about you… whether you realize it or not. Limiting what you share with the world primarily comes from your user settings. 
The Pros and Cons to Facebook as a Whole
Facebook has transformed from a place to see what your ex is up to or play Farmville with friends to a place where nearly every business in the world has a presence. In fact, most businesses see Facebook as an irreplaceable tool. What are the pros to actually using it? 
The Pros! Facebook has some obvious benefits. Keeping in touch with friends, colleagues, and family has never been easier. Sharing cell phone numbers has become less popular, being replaced by "Just add me on Facebook!". This platform has also become an extremely common pre-interview tool. If expanding companies see someone with a destructive self-image, the resume typically is politely placed into a shredding machine. If you're a Facebook user, you might have already experienced this truth-embedded statement: Facebook is the second fastest place to learn of events, right behind being on the scene. Businesses know just how powerful this tool is to transmit information, communicating to clients or customers en masse has become a simple task. The platform also has cost-effective advertisement targeting, demonstrating more accurate ad placement than other ad platforms. 
The Cons? The simple downside to Facebook is your lack of privacy. Every bit of information inputted into the platform Facebook adds to your hidden profile. Are you a Facebook user? If so, how long have you been a user? The answer for the majority of us likely uses the same unit: years. Every 'like' on a post, and every post you yourself contribute has meaning to Facebook. The platform begins to recognize just the things you like, and will direct similar ads into your line of sight. The posts you see are no longer in chronological posting order, they are filtered based on what you like.
It's no secret that this platform has had some shady activity over the years. We don't want to dive too deep into any particular topic, but here are a few events that occurred since the platform was founded: 
Without consent, 2007 introduced a feature which companies could track purchases by Facebook users and then notify friends of the goods that were bought. 
In 2011, Facebook was hit with a brutal charge by the FTC. The platform had been allowing private information to be made public, without so much as a warning. Facebook was letting third-parties access user information without consent. 
In 2013, Facebook had a very generous activity. Alongside the "Donate" button to be able to donate to charities, they also had this helpful bug that leaked the email addresses and phone numbers of over six million Facebook users.
2014 was the year Facebook decided to do some research. They wanted to know if they had the ability to make users depressed. Turns out, they did. They purposely displayed depressing content in hopes that users would feel overwhelmed with depression. 
In 2015, Facebook finally addressed growing privacy concerns. They put their foot down, and no longer allowed Facebook apps to have boundaryless private user data. What does this mean they were allowing before 2015? 
In 2018, more sensitive information was released. Who about this time? Facebook. 2018 was the year that revealed Facebook had a massive 50 million user data breach. However, they justified the breach by doing nothing about it, until their reputation began dwindling. Once they noticed how poorly this affected their image, then they decided they should do something about the breach. 
Facebook has been a very busy place since it was founded in 2004. Privacy-related concerns have been far from scarce. We understand that privacy is a growing concern for all of us, but we have some advice for you. You don't need to delete your account, and uninstall the application. The reason the platform has such a large user base is because people enjoy using it. With that being said, it's okay to keep using it. However, you do need to control what information you are sharing. 
Facebook's Privacy Options
Log in to your Facebook account on your desktop.
On the top right, there is a small down arrow. Click it and go to settings.
From there, click Privacy.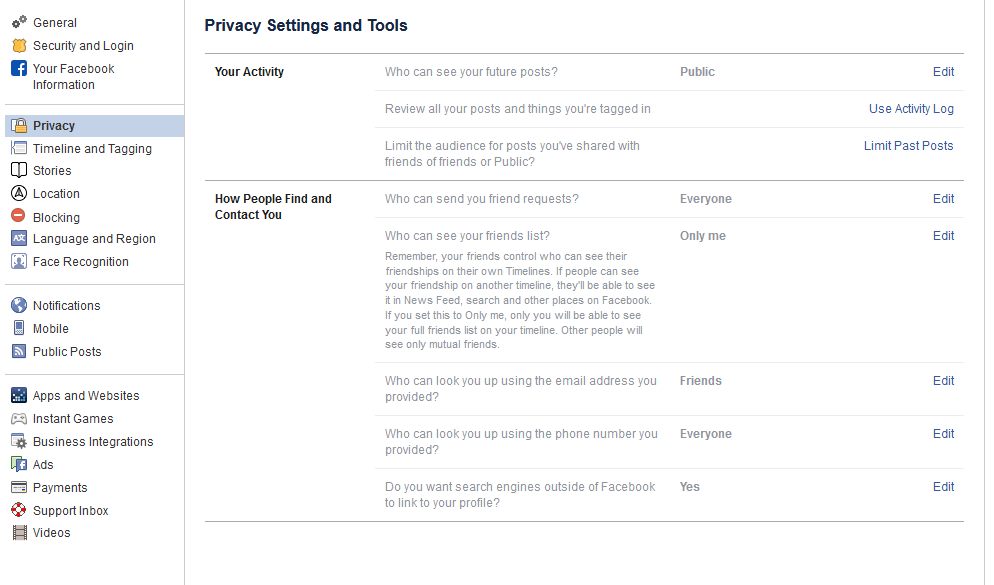 Facebook generally lets you set privacy options for a few different groups of people:
Public – Anyone can see this information, even if they are not Facebook friends, and even if they aren't signed into Facebook, In theory, this means search engines and other online entities can see your information as well.
Friends – This means only people you are Facebook friends with can see the information.
Friends except… – This lets you filter out some friends or specific user-created groups from seeing certain information. For example, you can create a group called "employees" and put your employees who have added you on Facebook in it. Then you can lock down some content and forbid those friends from seeing it.
Only me – This means none of your friends can see the information, and that it is strictly between you and Facebook. Still, don't share anything that you wouldn't want getting out there.
You can also choose specific Facebook friends who can see certain content, if you wish.
Let's take a look at each option. Fortunately, Facebook does a pretty good job explaining these in plain English.
Who can see your future posts? This option allows you to set the default privacy setting on future Facebook posts. You can always manually change it on a per-post basis, this just sets the standard.
Review all your posts and things you're tagged in. If you click Use Activity Log you will be able to scroll through your entire timeline and manage the permissions of your previous posts. This is also where you'll find posts that you have been tagged in from friends. 
Limit the audience for posts you've shared with friends of friends or Public. If you click Limit Past Posts, you can quickly lock down all of your past posts by changing them from Public to Friends only. Careful though, Facebook doesn't let you revert this very easily. If you decide you wanted your posts to be public, you'd need to go through them by hand to change the privacy settings.
Who can send you friend requests? You can either set this to Everyone or Friends of friends. This is one of the few cases where it probably doesn't hurt to leave it set to everyone.
Who can see your friends list? This is definitely one you should lock down. You don't need everyone in the world seeing who your Facebook contact list is. Setting this to Only me will keep that information private (well, Facebook will still know, but most users won't).
Who can look you up using the email address you provided? You can decide if the general public can find you on Facebook via your email address. For most of us, we probably don't need that, so locking this down to Friends or Only me is probably a good call.
Who can look you up using the phone number you provided? Again, you probably don't need the public using this, so setting it to Friends or Only me will give you more control over your identity.
Do you want search engines outside of Facebook to link to your profile? Although Facebook doesn't really control how Google, Bing, and other search engines work, you can dissuade your Facebook profile from being indexed by the search engines with this option. If your personal brand is important and you want people to be able to find your profile when Googling your name, keep this set to Yes.
Control How Others Interact with Your Personal Facebook Profile
Still under Facebook's Settings area, click Timeline and Tagging on the left. These settings let you choose whether or not others can post content to your timeline, and who can see this content.
Who can post on your timeline? You can choose Friends or lock it down to Only me so nobody can post to your profile.
Who can see what others post on your timeline? If you choose Friends for the above option, you should definitely lock down who can see it. Setting this to Friends will limit who sees your friend's post, and Only me will prevent a Facebook friend from hurting your reputation.
Allow others to share your posts to their stories? Facebook breaks this one out pretty clearly – if you post something publicly, do you want friends to be able to share it? This is how good content gets shared around Facebook, so you may want to leave this enabled.
Who can see the posts you're tagged in on your timeline? Friends can tag you in a Facebook post, but you can control who can see it. If you want to hide your personal life or have some rambunctious Facebook friends, you may want to set this to Only me or at least lock it down to just Friends.
Review posts you're tagged in before the post appears on your timeline? You'll be able to vet the content you are tagged in, but remember, if Jack tags you in a post, all of Jack's friends will be able to see it before you get a chance to review it. You should definitely set this to on.
Review tags people add to your posts before the tags appear on Facebook? Definitely set this to on.
Managing Public Posts
Still in the Settings page of Facebook, click Public Posts on the left-hand side.
Who Can Follow Me – Followers are sort of like one-sided friends. It might be somebody who sent you a friend request that you chose to ignore. If you want the general public to be able to see your posts and follow you, set the option to Public. If you want to only allow friends to see your post, change this setting to Friends.
Public Post Comments – This is where you choose who can comment on your public posts. You can lock this down to just Friends, or Friends of Friends if you wanted a bit of a wide berth. 
Public Profile Info – Some parts of your Facebook profile are available for the general public (your name and profile image, for example). Do you want just anyone to be able to comment on your profile image or other biographical information? Locking this down to Friends or Friends of Friends is usually a good idea.
Want Facebook to Know Where You Are?
Facebook can track your location history. They don't share that data to your friends, but… honestly we couldn't find a whole lot of reasons why Facebook wants to collect this data other than to serve you targeted ads. We hope that's all it is used for, but it's better to be safe. As mentioned above, Facebook does have a little bit of a history of not keeping your data safe.
From the Facebook Settings page, click Location on the left-hand side. You can View your Location History to see what Facebook already knows about you. In order to turn the feature off, you need to log into the mobile app.
On your Facebook App:
Tap the 3-bar hamburger icon on the top right. Then scroll down and tap Settings & Privacy, and Privacy Shortcuts. You'll find a whole new area with various security settings and documentation on how Facebook lets you control your identity. 
Look for Manage your location settings which should be on screen without needing to scroll down.
Tap Location Access and turn off Location History. Tap Location Services and turn "Use Location" to off.
You'll also see an option for Background Location. You might need to go back a step on your phone to get to it. You'll want to turn that off as well, if it isn't already.
Let's go ahead and delete your location history too.
Again, from the Facebook mobile app, tap the 3-bar hamburger icon on the top right. Then scroll down to Settings & Privacy and then Privacy Shortcuts. 
Choose Manage your location settings and tap View Your Location History. 
Facebook will prompt you for your password.
Tap the 3-dot settings icon on the top right.
Tap Delete all location history. 
Keep in mind, if you post a photo that tags your location, or check in to a public place, you might be granting Facebook access to your location data again.
That is a LOT of information.
If you made it this far, you probably are concerned and hopefully mesmerized with the amount of Facebook's settings you probably don't have disabled. COMPANYNAME also is concerned with your privacy, and if you're looking to protect your business we have a lot more information in our blogs.