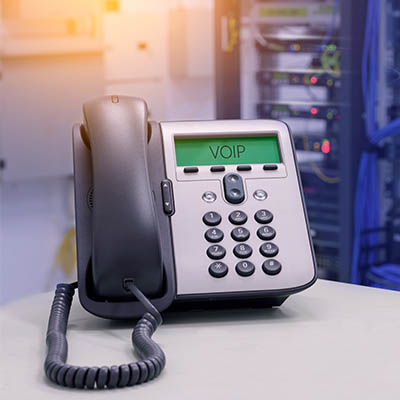 Many business owners like to crunch the numbers in order to fully understand where their hard-earned money is going. Essential business communication tools are just one of the things that are under your expense's category. However, phone service is dwindling across the globe, much in part due to the benefits associated with VoIP, or Voice over Internet Protocol. 
What is VoIP?
If you've ever used the Internet, you may know that each user has a specific IP address. This unique IP address is leveraged in VoIP. Using the Internet, voice services work much in the way the telephone first did. Sound information is translated into packets of binary data, transmitted to the recipient's phone system. Their phone system then translates this information into audible tones. The important thing to remember with VoIP is you aren't limited to who you can call. For example, if you take advantage of VoIP, you can still call those who use traditional phone services. 
How Can VoIP Save My Business Money?
There are many different ways VoIP saves a business money. We will go over just a few of them here: 
Your Business Already Has Internet
Chances are, unless you run a cash-only small town shoe repair business, your business uses the Internet. This means VoIP already has the necessary requirements to be installed. Using VoIP means your expense tracker no longer needs to include phone service, as it is accomplished through your Internet. 
Getting rid of the landline might seem worrying. If your business frequently experiences internet loss, this would hinder you from being able to make a phone call. However, if Internet-loss is a reoccurring theme in your business, you shouldn't let technological issues stop you from leveraging VoIP systems. Your business should probably reach out to your Internet provider to make them straighten out ongoing Internet issues. If they aren't able to do so, it might be time to switch providers entirely. 
Many alarm systems rely on old-fashioned copper wiring to not be vulnerable in the event of an individual business' power outage or internet malfunction. If your power goes out, or Internet goes down, you don't want your alarm to stop working. However, if there does happen to be one instance where your internet goes down, limiting your use of VoIP, your business could simply use a cell phone to make calls. Old-fashioned technology still has a place in the world. However, failing to take advantage of beneficial newer technologies can hinder your business' communication means. 
VoIP is Simple
If your business' workforce setting is an office environment, then you likely know how expensive setup costs can be. Each user needs a computer, a phone, and with that a phone line connected. Furthermore, an internet connection must be established for each user. Leveraging VoIP means users no longer need a phone set up and are able to make calls with specific software anywhere with an Internet connection. All this phone system requires is a headset, some software, and some Internet.
VoIP is More Efficient
Traditional phone features are individually programmed for each phone number, in an area-specific switch. Changing phone features is a painstaking task, and the features available are old-school. Sure, you can forward a call, but in order to do this your phone provider needs to login and redirect the call via the switch. 
VoIP offers all of the newest features, and implementing them across your workforce is extremely convenient. Whether you are looking to take advantage of call forwarding, set your phone to Do Not Disturb (DND), or take advantage of the ability to conference call, VoIP has the solutions for your business. 
There is an incredibly large amount of benefits to using VoIP. If you would like to learn more, call us at COMPANYNAME by dialing PHONENUMBER today. Our technicians are able to guide your business towards saving money by procuring VoIP!