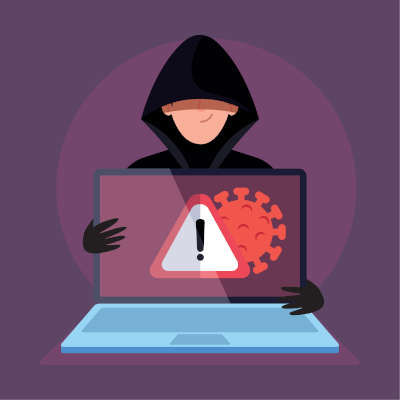 In true form, cyberattacks have trended upward during the COVID-19 pandemic. With so many people working from home, it's not much of a surprise that some of the most popular hacking tactics are being used, using the worldwide pandemic as bait. Today, we identify some of these threats.
Businesses Relying on Unsecured Remote Desktops
We briefly touched on this in the opening, but there are more unsecured remote desktops being utilized to access potentially sensitive information than at any point in history. More people are working remotely, yes, but some businesses haven't taken into account the security of these connections and it has resulted in a 40 percent rise in unsecured remote desktops. For businesses that are utilizing them, this has to be a major concern, as it gives cybercriminals an in. By using brute force methods, they can gain access to the remote desktop and if that is a part of a larger computing network (many are), they will gain access to that as well.  
…and Brute Force is En Vogue
The cybersecurity experts at Kaspersky have seen a 400 percent increase in brute force attacks in 2020. With so many additional opportunities to breach business networks, it really isn't a surprise. This is mainly due to IT admins having to roll out remote computing resources with no prior notice in March.
One Virus Breeds Others
Also newsworthy is the uptick of phishing attacks that are using the COVID-19 pandemic as bait. Since people are very aware of COVID-19, hackers are using psychological warfare against people concerning the topic. 
Hackers Are Succeeding
Phishing emails using COVID-19 are succeeding at an enhanced rate due to the fear surrounding COVID-19. With more people than ever engaged about an issue, people who are untrained on how to thwart phishing attacks can be pretty low-hanging fruit for hackers. 
COVID-19 is a Field Day for Scammers
The global pandemic has fueled a whole hacking ecosystem. Billions of COVID-19 pages are up on the Internet—and more are added every day—so it is hard for people to know which are legitimate and which are nefarious. What's worse is that 90 percent of all COVID-19 pages added to the web are scams. 
Security has to be a priority for every user, but when you are responsible for your company's network and infrastructure health, it is imperative that you know what kinds of threats are being pushed at any given time. To talk to one of our IT experts about what you can do, call us today at PHONENUMBER.