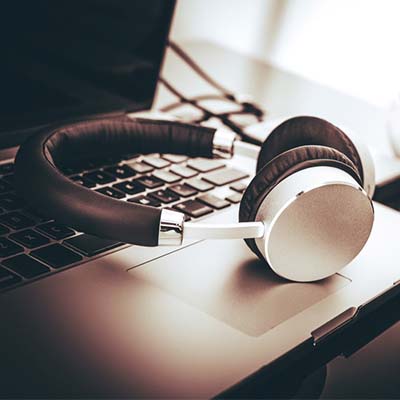 A reliable pair of headphones is swiftly becoming an office necessity, and wireless capabilities have improved enough to make a wireless set comparable to its wired counterpart. However, there are plenty of other considerations for you to make when selecting a pair to help boost your productivity. For this week's tip, we'll review some of these deliberations.
Specifications
The first consideration you need to make is whether or not a set of headphones will be able to serve your purposes in the first place. Doing so will require some research into the capabilities of each model you are considering, as well as a review of what others have said about them.
First of all, and perhaps most importantly, how is the sound quality – especially if you plan to use your headset to talk on the phone? While those that use Bluetooth to connect are often limited in their sound quality, they are still perfectly sufficient for an office worker's needs. However, if your Bluetooth headset is intended to be used as an accessory for your telephone calls, try to find a headset that is designed with that purpose in mind. Those that are designed primarily for listening to music often fall short when it comes to making and taking calls.
Secondly, you also want to make sure that your headphones of choice are going to be reliably useful in the office. Some headphones, although wireless, might restrict your ability to move around by not being able to maintain a call's quality at a distance from its source. Additionally, because the headphones will not be connected to a power source as you use them, making sure that they have a sufficient battery life is an important consideration. You also want to be sure that your headphones will not suddenly stop working – and if they do, you want to make sure they can be fixed with minimal hassle.
Finally, how easy are a particular pair of headphones to use, and how comfortably do they fit to your preferences? While headphones often make a useful tool, an overly complicated or uncomfortable pair will not likely be used to its full potential. Therefore, in order to get the most out of your investment, it makes the most sense to ensure that the headphones you select are as user-friendly as possible.
Other Considerations
Of course, there are other practical questions that it will help mightily to ask before committing to a particular set of headphones. As we covered before, how are these headphones to be used, and is your office one in which you can safely shut out noise? If your office tends to be quieter, a pair of noise-cancelling, over-the-ear headphones are probably a better decision, as there is less of a chance that you'll disturb your office neighbors. You also can't ignore the fit of a pair of headphones, and whether or not it is comfortable to the user to have on-ear or over-ear.
Combining these factors should allow you to narrow down your selection to a set of headphones that is perfectly suited to your needs. Need more technology advice? Subscribe to this blog!