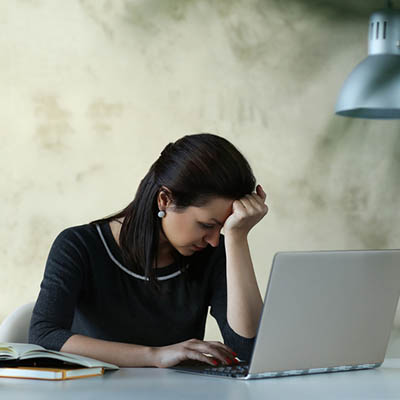 There are quite a few factors that can lead to boosted productivity, but unfortunately, the opposite is also true. Your business' productivity can be hampered by a variety of issues. Below, we'll review some sources of productivity deficits, and how these deficits can be eliminated.
Environmental Issues
The first productivity problem in your office could actually be the office itself. Believe it or not, the amount and even type of lighting in the office can influence the productivity of your employees. If your office is dark, or even too dim, it can actually cause a feeling of sluggishness and reduce your employees' output. This is closely related to the drain that Daylight Saving Time creates in those working in areas that practice it. While many discount this drain, it has been shown that a worker's productivity can be affected for up to three weeks.
The solution to these shortfalls is unsurprisingly parallel to the cause – simply adjusting the light in your office can have a significant influence on the ability of your staff to stay productive.
Light is measured in Kelvin temperature (K), and different real-world examples of light can be used to describe the difference between these temperatures. For instance, the warm glow from a fire would be measured at 2,000K, while the light of an overcast winter's day would measure 7,000K. Studies have indicated that the ideal light for productivity is anywhere between 5,000K to 5,500K, similar to the cool light of a pleasant sunny day.
Switching senses for a moment, noise is a well-known opponent of productivity. Unless your company culture consists of silent working conditions, employees are apt to be distracted or even overwhelmed by the noise pollution that is generated. While you may have found that silence doesn't necessarily help productivity at all, a little peace and quiet now and then could be all your employees need to focus up. To provide this, you may consider setting aside a small space to serve as a quiet area for employees to utilize.
Burnout
While you may want to think of your staff as a tireless productivity machine, the reality of the situation is quite different. They're only human, and as a result, they are susceptible to error, frustration, and if things get to be rough enough, alienation. In order to keep your employees productive, it is important that they feel engaged with their work. Promoting a positive environment, with wellness and well-being openly encouraged, will help work wonders on your employees' collective attitude.
Furthermore, it truly is important to remember that your employee doesn't live in order to work for you – they work for you so that they can live. Therefore, you should avoid encroaching on their personal time as much as you can, and consider reimbursing them generously when circumstances leave you little choice. Implementing solutions that reduce the number of menial tasks they have to fulfill through automation can also help, as they will be able to focus on tasks that are more substantial and meaningful to the business.
Managerial Shortcomings
You also need to consider that the root cause of lost productivity may be you and the higher-ups in your staff. If you were to look at the managerial style in your business from an outside perspective, would you see an office that provides employees with adequate training, sufficient direction, useful feedback and realistic work expectations? If not, you may be responsible for the lacking productivity affecting your office.
Fortunately, this is one of the easier productivity issues to fix: you just have to communicate with your employees. Make sure they know that your door is always open to hear any issues that they may have, and don't overburden them with tasks while offering zero guidance. While you may be their leader, you and your employees are on the same team. You need to make sure they know that.
Inadequate Technology
Finally, your employees are only going to be able to do as much as their tools allow them to. If the technology they have to use isn't powerful enough to be effective, they're going to have a difficult time being productive under the best circumstances. If you want your employees to perform well, you need to give them the equipment they need to do so.
COMPANYNAME can help where this is concerned. We can not only equip your workforce with the components they need to accomplish what they need to, we can make sure that they are maintained and protected to minimize the amount of productivity lost. Reach out to us at PHONENUMBER for more information.